Violent clashes with police at Romanian protest rally
Comments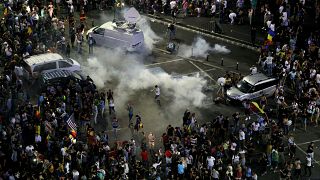 Thousands of Romanians working abroad joined demonstrations in Bucharest on Friday against corruption and attempts by the Social Democratic Party to weaken the judiciary.
With Romanian flags in hand, they chanted "party of thieves" and called for the resignation of the government.
Considered to be one of the most corrupt in Europe, the Romanian judicial system has been placed under special surveillance by Brussels.
A Romanian citizen who's living in Spain said: "We want to be seen as a normal country, not as undesirable. The government must give us this opportunity, we do not want to be humiliated all over the world. I came from Bilbao specifically to this demonstration of Romanians living abroad. We have had enough, we must be united - victory for Romania!"
Another, who lives in Italy says: "We've had enough, the government is corrupt, they have to be replaced by young people, with a new way of thinking. "
The protests were marked by clashes between the demonstrators and the police.
It is thought that millions of people are leaving the country because of corruption.
According to Eurostat, 20 percent of working-age Romanians live in another country of the European Union.