Thousands moved out the path of a "Holy Fire" in California
Comments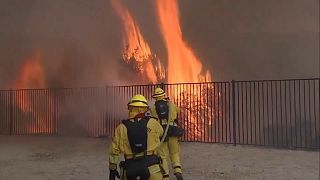 Over twenty thousand residents have been moved from their homes in California because of a raging wildfire.
The blaze, which has been dubbed the "Holy Fire", is threatening the city of Lake Elsinore in Orange County, home to some 60,000 people.
Hundreds of firefighters were involved in the operation to control the fire in the Santa Ana mountains on Friday, building barriers and establishing containment lines.
The governor has declared a state of emergency and has freed up extra resources to tackle the flames.
High temperatures, strong winds and tinder-dry vegetation have accelerated the spread of the fire and officials admit it is only around ten percent contained.
Meanwhile, a man has appeared in court accused of arson. Authorities say Forrest Clark intentionally started the fire on Monday after a dispute with his neighbours going back ten years.