Pussy Riot defy Moscow and turn up in Edinburgh
Comments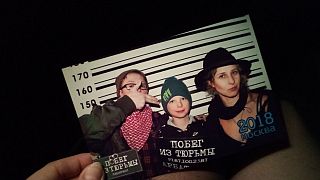 Known for their controversial and outspoken campaigns in Russia, the story of punk group Pussy Riot is being told in Scotland, after one member smuggled herself out of the country despite being banned from going abroad.
Maria Alyokhina drove 1,000 kilometres to attend the Edinburgh Fringe Festival and promote her book, Riot Days.
She said she was determined to make the journey:
"We came to Edinburgh to do 'Riot Days'. It's important to us to tell the story because we believe that this story can be an example for you to do your own Pussy Riot."
Only last week supporters of the band were rearrested as they left jail where they had been sent after they ran onto the pitch during the World Cup final.
Alyokhina was jailed for nearly two years for a protest in 2012 at a church in central Moscow.
Their producer said the Edinburgh event explained much of their thinking:
"I think that you will see a real energy, the interesting story of Masha personally, the political punk manifesto and the main thing is like the inspiration for people to act and to do whatever they think they can change," explained Alexander Cheparukhin.
Every year thousands of artists attend the Edinburgh Fringe Festival, which for some, can turn out to be a breakthrough event.