Pussy Riot sentenced for 15 days in prison in Moscow
Comments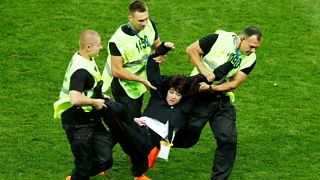 Four members of the feminist protest group Pussy Riot have been sentenced to 15 days in prison in Moscow.
It's after they briefly entered the pitch during the World Cup final between France and Croatia on Sunday.
They were found guilty of "seriously violating the rules of spectator behaviour".
Dressed in fake police uniforms, the women and a man ran across during the second half and even high fiving some of the French players before being pulled off the pitch by security.
They've also been banned from attending sports events for the next three years.
They say it was a call to release political prisoners and to demand more open political competition.
Pussy Riot was founded in 2011 originally as a punk rock group based in Moscow.