Travel misery for 50,000 as Ryanair cancels hundreds of flights
Comments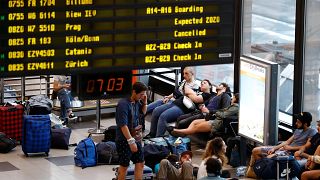 Up to 50,000 passengers faced travel misery on Friday after Ryanair announced it would have to cancel around 400 flights as a result of industrial action.
Pilots in five countries are staging a 24-hour walk-outs over pay and conditions
They include Germany, Sweden, Ireland, Belgium and the Netherlands.
The joint action is the largest so far in an ongoing dispute.
"What it is about is to signal to management that there needs to be an end to them trying to beat their own staff! And that is what we want to achieve today, explained Ingolf Schumacher, the Chairman of the Vereinigung Cockpit Union in Germany. "Today we want to send a clear message to Dublin: Ryanair must change!"
Of course it's passengers that are at the sharp end of the dispute, even if there is a certain amount of understanding about the pilots' actions.
"It is somehow a bit unfair that the pilots have to draw the short straw just because passengers want to fly for cheap. So, yes I sympathise. It is annoying that it's happening in the holidays but that is the only means they have," said one man at an airport in Berlin.
Irish-based Ryanair is Europe's largest low-cost airline. Last year it agreed to recognise unions for the first time but it is in a dispute over collective labour agreements. The company says it has made every effort to solve the dispute.