At least four dead in Canada shooting
Comments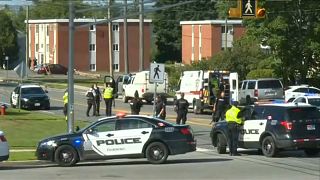 At least four people including two police officers died in a shooting in Canada on Friday morning. Officers confirmed the deaths of their two colleagues on twitter. No names or other details of the victims have been released.
Canadian Prime Minister Justin Trudeau tweeted his condolences on hearing the news.
One person has been taken into police custody. So far little is known about the circumstances surrounding the incident.
It took place in Fredericton in New Brunswick, a small city of around 56,000 inhabitants. Local media images showed emergency vehicles converging on a
tree-lined residential street. Nearby facilities were closed and authorities told residents to stay locked in their homes.
New Brunswick had only three homicide shootings in the whole of 2016, according to Statistics Canada. Gun laws in Canada are more strict than in the United States but a proliferation of weapons has led to an increase in gun crimes in recent years.