Yemen: Air strikes kill dozens of children riding a bus
Comments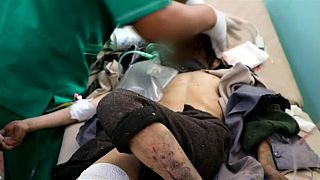 Plastic body bags containing the bodies of children, killed after air strikes hit their bus while travelling through a market in Northern Yemen.
The Saada health department says it left 43 dead and 63 injured.
The Saudi-led coalition who fired the missiles have accused its targets, the Iranian-aligned Houthi group, of using children as human shields.
Moussa Abdullah was an eye witness of the attack. He said: "The strike happened in the middle of the market and it targeted a bus carrying children. Our shops were open and shoppers were walking around as usual. All of those who died were residents, children and shop owners."
The air strikes landed in the area of Dahyan in northern Yemen's Saada province.
The coalition insists it's acted within international law, targeting the Houthis' missile launchers, that were allegedly being used to attack the Saudi city of Jizan.
But the Houthis say a "clear disregard for civilian life" has been shown.