Tokyo Olympics to boost security with facial recognition technology
Comments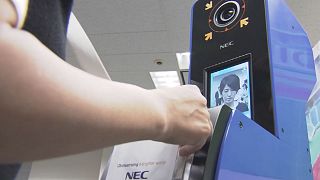 The 2020 Tokyo Olympic Games are set to make history by being the first to use facial recognition technology, in a move organisers say will boost security and cut down waiting time for athletes.
Organisers announced on Tuesday that they had teamed up with the Japanese telecommunications and information technology giant NEC to develop the first system of its kind to be used at the global sporting event.
More than 300,000 athletes, Games staff, volunteers and media personnel will have to use the system to enter venues at the event.
They are now required to submit photographs of themselves to a database before the Games begin in July 2020.
"Every time they enter the facility, they have to do a security check," Tokyo 2020's head of security Tsuyoshi Iwashita told reporters.
"Tokyo's venues [don't] always have enough space for the security check or even space to wait for the security check. When the events are happening, we expect many people to come and the weather will be very hot. This is why we introduced this facial recognition," Iwashita said.
The system, which was demonstrated to reporters on Tuesday, requires accredited individuals to hold a card containing a chip with their facial data up to a terminal while looking into a camera to verify their identity.
Spectators will not be required to use the system.
NEC said it tested the technology during the Rio 2016 Olympics and noted that it has already been implemented in numerous locations around the world, including airports.
NEC Senior Vice President Masaaki Suganuma said faces are recognised by the system correctly "99.7% of the time".