Watch: Worshippers flee from Bali mosque moments before debris falls during earthquake
Comments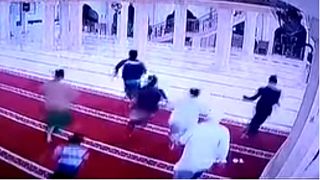 Worshippers fled from a mosque in Bali, Indonesia, on Sunday, as a deadly earthquake shook the building, knocking panels from the ceiling onto the floor.
Security camera footage shows a line of men praying inside the Masjid Agung Bangli mosque suddenly get up and run away as the earthquake hits, sending parts of the ceiling crashing to the ground, where the group had been sitting just seconds earlier.
At least 98 people were killed in the powerful 6.9 magnitude earthquake on Indonesia's Lombok island on Sunday, while thousands more lost their homes to the disaster.
The National Disaster Mitigation Agency (BNPB) has warned that the death toll was likely to rise once the rubble was cleared away.