EU vows to counter renewed US sanctions on Iran
Comments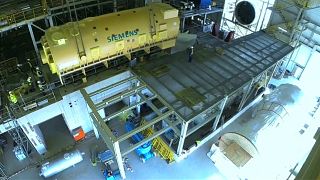 The European Unoin has vowed to counter US President Donald Trumps' renewed sanctions on Iran by introducing a new law to protect European Companies.
A joint statement issued by France, Germany and the UK said that "preserving the nuclear deal with Iran is a metter of respecting international agreements and a matter of international security."
The so-called blocking statute is due to enter into force on Tuesday (August 7).
"The European Union's updated blocking statute enters into force to protect EU companies doing legitimate business with Iran from the impact of the US extra-territorial sanctions," said European Commission spokesperson, Mina Andreeva.
Several large European companies are among those affected by renewed American sanctions on Iran.
French car manufacturers PSA (Citroen and Peugeot) holds around a third share of the market in Iran. PSA said in early June that it was suspending its investment in the country, minimising the damage by saying that its business there was worth less than one percent of its turnover.
Renault has said it wants to retain a presence in Iran, but without putting the company's interests in danger.
In May, oil and gas company Total said it would abandon an agreement to develop a gas field in Iran.
Meanwhile, Airbus had announced a multi-billion contract with Iranian airlines for 100 planes although only three are reported to have been delivered. However, the loss of the Iranian market is not expected to have a major impact on the European planemaker which has orders for over 7,000 aircraft in total.
And German multinational Siemens signed deals in 2016 relating to natural gas. The industrial manufacturer's chief executive said in May that it couldn't do any new business in Iran.
The company has said it intended to respect export regulations, including US sanctions.