Portuguese firefighters evacuate villages in the Algarve
Comments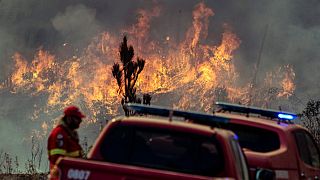 As the temperature soared to near record highs in southern Portugal, hundreds of firefighters battled a forest fire in the Algarve, a popular tourist destination.
Two villages in the hilly Monchique area were evacuated as a precaution.
More than 700 firefighters were at the scene and 11 water-carrying aircraft were being used to fight the flames.
Hot air from North Africa has caused the most severe heatwave in Iberia since 2003, one of the worst years on record for forest fires.
The authorities have been on high alert all week in an effort to avoid a repeat of last year's fires, which  killed 114 people.
Portugal has brought in various measures including a text-alert system to warn those in danger.
The government has also hired hundreds more firefighters and ordered landowners to clear undergrowth which can fan fires.