Gaga and Marc Quinn muse Zombie Boy dies
Comments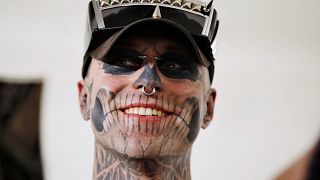 Rick Genest, a Canadian fashion model, artist and actor famed for his heavily-tattooed body, has died, six days before his 33rd birthday.
His body was found at his home in Montreal, Canada, on Wednesday. Police have ruled it a suicide.
Better known by his moniker Zombie Boy, Genest is known for his bone, muscle and organ tattoos that cover his body. He found international fame in 2011 after he appeared in Lady Gaga's music video for Born This Way.
Genest has also appeared in magazines GQ and Vogue, and giant, bronze statue of him, carved by renowned British sculptor Marc Quinn, is due to be unveiled at the London Science Museum next year.
Platinum-selling US popstar Gaga said on Friday that the death of her "friend" was "beyond devastating", telling her followers "if you are suffering, call a friend or family today. We must save each other."
In another tweet, she added: "Kindness and mental health aren't one time practices."
Genest's path to becoming a 'living skeleton' was set when he was 15-years-old and dealing with a brain tumor diagnosis.
"I was told I could die or be left disfigured; I guess this spiralled me into becoming obsessed with the morbid and macabre," Genest told the Mirror in 2016. "As it happened, the operation to remove the tumor went without a hitch, but since then, I've known life was too short to not fulfill my dreams of tattoos and body modifications."