Eight ways the heatwave has affected Europe
Comments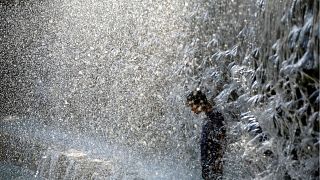 Copyright

REUTERS/Toru Hanai
Temperatures are soaring across Europe, with forecasters predicting that the all-time record for the region of 48°C could be broken in the coming days.
Here are eight ways the heatwave has affected Europe.
1. Dying fish
Freshwater fish have been suffocating as the soaring temperatures have stripped oxygen from lakes and rivers.
In Hamburg, authorities collected almost five tons of dead fish from ponds over the weekend, German press agency dpa reported. Firefighters have started pumping fresh water into some ponds and lakes to try to raise oxygen levels.
Meanwhile, the UK's Environment Agency said more than 6,000 fish had died in several regions in the country.
The low water levels have also made shipping more difficult, with a complete ban imposed on boats on the Oder river in eastern Germany.
2. Melting mountain
Ice on the glacier-capped southern top of Kebnekaise mountain has melted so much this summer that it is no longer Sweden's highest point.
It has lost four metres making it only the second highest peak.
3. Swimmers beware
Authorities in Sweden, Poland and Lithuania have warned against swimming due to a huge bloom of toxic algae spreading because of hot temperatures.
The blooming of blue-green algae is primarily caused by the excess of nutrients in the water. Scientists say exceptionally hot weather and a lack of wind has exacerbated the effect.
Researchers are now collecting and studying the algae for use in technological processes and pharmacology.
4. Wildfire risk
The hot and dry temperatures have led to an increased risk of wildfires in much of the region.
"Tinder dry vegetation, low relative humidity and local breezes can put the interior of the Iberian Peninsula at a higher fire danger than other parts of western Europe," said AccuWeather Meteorologist Tyler Roys.
The forecaster said residents should use caution with cigarette butts, campfires and other equipment that produces sparks as dried-out grass can fuel fires.
Wildfires this summer have killed at least 91 people in Greece and burned around 20,000 hectares in Sweden.
5. Pollution spikes
The heatwave has triggered pollution warnings across parts of Europe.
London Mayor Sadiq Khan last week said the heat combined with the capital's "toxic air, a lack of cloud cover and emissions travelling from the continent" had led him to trigger a "high" air pollution alert.
Meanwhile, several areas of France were placed on alert for pollution as a result of the rising mercury levels.
6. Crop concerns
The soaring temperatures and drought have devastated crops, with more than half of the harvest expected to be lost in some areas of Europe.
Some arable farmers are facing bankruptcy; states of emergency have been declared in Latvia and Lithuania; and some Swedish fields have received only 12% of their normal rainfall.
In Germany, farmers worst hit by the severe weather conditions have urged the government to act to compensate them as they say 30% of their annual harvest has been destroyed and losses are threatening their livelihood.
Reacting to the crisis, the European Commission said on Thursday it would speed up payments to farmers hit by extreme drought and allow them to use fallow land that normally would not be used for production to feed their livestock.
7. Beer surge
Brewers in Germany have seen a surge in beer sales in the hot weather, leading some to run out of bottles.
Brewery Moritz Fiege issued a call for help on Facebook.
"Great weather + great beer = serious thirst. The catch: although we regularly buy new bottles, we're running out. o before you go on your summer holiday, please be sure to return your Moritz Fiege empties to your local off license," it said.
8. Keeping cool
The soaring temperatures have led governments and companies across Europe to try to find ways of keeping people cool.
In Germany, state rail operator Deutsche Bahn said it was offering free water to passengers in case of delays and would keep air conditioning running on its trains even when they are empty.
Meanwhile, a supermarket in Finland said it would open its doors for one night only this weekend to offer customers an air-conditioned place to sleep.