Watch: Algerian women take aim and fire as interest in hunting grows
Comments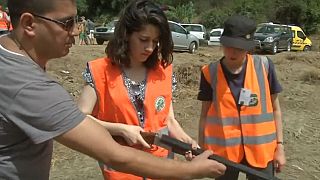 -
A father and daughter duo turned up at a target shooting competition in Algeria's Djurdjura mountains this year, as some women braved to venture into the male-dominated activity.
For hunter Hamdaoui Akli, the competition was special this year, as he turned up with his teenage daughter and coached her as she participated in the contest.
"I teach her what I can, and if she wants to continue it is up to her," he said.
Sarah Akli is one of three women who took part in the competition that is organised ahead of hunting season. She hopes to become a hunter like her father and join him on hunting trips.
Although the women's participation was just a fraction of the 190 overall number of participants, they received support and encouragement from many.
Among those is hunter Djamel Ait Ali who thinks that women's interest in this activity is a sign that limitations on women are being removed.
The head of the jury said it was "extraordinary" to see a father support his daughter in the competition, adding "we have to encourage women".
The women were handed medals and certificates at the end of the contest. They proudly held their prizes and posed for photos.
Hunters' associations from all Berber regions in Algeria took part in the event.