Bank of England raises interest rates but Brexit fears weigh on pound
Comments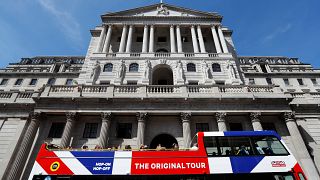 The Bank of England lifted interest rates on Thursday, but the pound fell amid uncertainty over Brexit and cautious comments from the Bank's Governor Mark Carney.
The board agreed unanimously to raise rates 25 basis points to 0.75 per cent but the bank chief indicated he was in no hurry to raise them further, saying monetary policy needed to "walk, not run".
Carney said: "Today employment is at a record high. There's very limited spare capacity in the economy. Real wages are picking up and external price pressures are declining. With domestically generated inflation building and the prospect of excess demand in the economy emerging, a modest tightening of monetary policy is now appropriate to return inflation to its 2 per cent target and to keep it there."
While the Bank of England board was unanimous in its decision, many economists questioned the need for a rate rise amid concerns over Brexit and a looming trade war between Washington and Beijing.
Craig Erlam, senior market analyst at OANDA, said: "If the UK and the EU fail to reach a deal and we start to head towards a 'no deal scenario', the Bank of England may be forced to reverse course very quickly after doing so. So I just don't see the point in this. I fully believe that what they are doing right now is prioritising credibility, because it wanted to raise in May, over what is ultimately the correct decision which would be to hold off."
The pound has lost almost 10 per cent of its value since hitting a post Brexit-referendum high in April, amid worries that Britain will fail to secure a trade deal before it leaves the European Union next year.