Why we're all living on credit for the rest of the year
Comments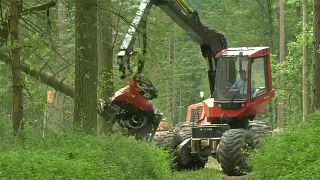 Today has been dubbed Earth Overshoot Day - the date in the calendar that, according to environmentalists, humans have taken more from the planet than nature can put back.
That means we have already used up our allowance for water, soil, clean air and other resources on Earth.
According to the Global Footprint Network, we emitted more carbon than the oceans and forests can absorb, we caught more fish, felled more trees, harvested more food, and consumed more water than the Earth is able to produce.
From Thursday, the group says, we're all living on credit until December 31.
Campaigners say the equivalent of 1.7 planets would be needed to produce enough natural resources to match our consumption rates and growing population.
The project started in the early 1970s and has been getting earlier in the year ever since.
In the 1980s, the overshoot day fell in November, shifting back to October by 1993 and to September just after the millennium.
Campaigners and charities say individuals can help reverse the trend by eating less meat, burning less fuel and cutting back on food waste.
But while the trend is slowing, they also note that 207 environmental activists were murdered in 2017, "the worst year on record".