Why is Theresa May visiting Emmanuel Macron during the summer holiday | Euronews Answers
Comments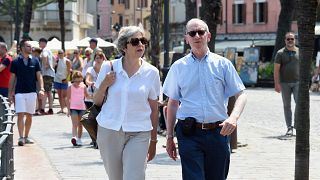 -
Across Europe Parliaments are in recess, kids are out of school and the thermometer mercury is rising – if you're one of the EU's 28 elected leaders, it's time to get away for some well-deserved holiday. But just as you settle back in your deck chair with a book rather than a budget, ready to run the country remotely by smartphone who's that marching over the pool terrace – it's Theresa May, hiking poles in hand, husband in tow, ready to talk Brexit!
What is Theresa May doing?
You might think after the turmoil of the past few weeks the British Prime Minister deserves a summer break but Theresa May's leaving her Lake Garda holiday early on a mission. Theresa May and husband Philip were set to be heading off on their annual Swiss hiking holiday next but she is taking advantage of her itinerary to attempt to build a multi-lateral consensus in support of her Chequers Brexit plan which her party has struggled to accept.
Theresa May is hoping this kind of direct approach between leaders going over the heads of the European Commission will help to break the deadlock to avoid a no deal Brexit - something which Jeremy Hunt who's on his first tour as Foreign Secretary was warning in France yesterday would have negative repercussions for the whole of the EU.
What are her chances of success?
Having already met German Chancellor Angela Merkel ahead of the summit to try to get her backing and Austrian Chancellor Sebastian Kurz last week the next stop is France. The Prime Minister will travel to Fort de Brégançon, the French Presidents' summer retreat island to try to persuade Emmanuel Macron to soften his stance on Brexit.
Now this probably won't be a fun in the sun Mamma Mia style catch up in the Med, President Macron is thought to be the foremost among European leaders to have privately expressed concern about whether May's plan could work. The Prime Minister has to convince the President that with the Port of Dover projected to collapse within a day in the no deal Brexit scenario causing chaos at Calais too, French trade would be dealt a heavy blow.
What is her bigger plan?
There is still much disquiet within her own MP ranks after Brexit Secretary David Davis and Foreign Secretary Boris Johnson resigned just when Downing Street thought they had the Chequers plan secured. Between the ardent Brexiteers and Remainers she barely got through the Commons votes on the legislation before parliament's summer break and once MPs return to London there are even more to come.
Time is slipping through May's fingers, she wants to come back after the summer recess and tell her party ahead of their conference her Chequers plan has support of the other 27 EU leaders, businesses and people around the country. The Prime Minister has already started traveling around the UK with her recent trip to the border in Northern Ireland but we can expect more domestic tours over the next few weeks.
The name of the game for May is to try to make President Macron and other EU leaders see the political reality that if her plan fails she will likely leave Downing Street and the next Prime Minister would be even tougher to deal with. EU leaders probably don't want the Mays gate-crashing their summer breaks but when all is said and done time is running out and their British guest has a small window to try to secure a deal before the bell rings.