Nicaragua's Ortega says 'volunteer cops' help police during protests, not armed gangs
Comments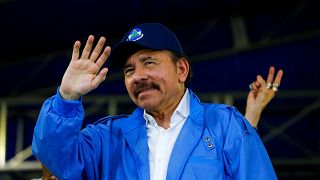 -
Masked gangs behind some of the deadly violence at protests in Nicaragua are voluntary police, President Daniel Ortega told Euronews.
He also accused protesters of being "terrorists."
In an interview with Euronews, Ortega refuted that some paramilitary groups collaborate with security forces, instead identifying them as "volunteer cops".
Asked why they are masked — an unusual move for voluntary law enforcement — Ortega said that "volunteer policemen in special operations are normally masked."
"There are even countries in Latin America where judges are masked so that they don't get killed," he added.
Hundreds dead
The Latin American country has been in the grip of lethal protests following a violent crackdown on demonstrations against pension reform in April.
Rights agencies estimate that the death toll ranges between 300 and 400, with Amnesty International warning earlier this month that "heavily armed pro-government groups remain at large, accompanied by police forces, committing joint attacks against the civilian population."
Human Rights Watch also blamed "police officers and pro-government armed gangs" for the deaths.
"There has been no indication that key officials have taken steps to prevent and punish violations," the organisation said in a July 10 statement. "On the contrary, they have issued implausible blanket denials, often blaming demonstrators for violence."
'Terrorism'
Ortega estimates that 195 people have lost their lives in the three months of protests, arguing that rights agencies inflate the numbers.
He also accused them of defending "armed gangs" that he said have killed 25 police officers, 25 volunteer police officers, and 32 soldiers as well as civilians.
"They torture them, set them on fire and then dance around them, it's terrorism," Ortega told Euronews.