Serbian lawyers strike over colleague's murder
Comments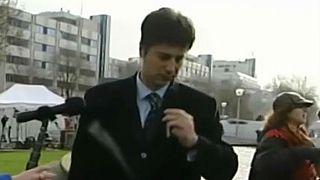 Lawyers in Serbia have begun a week-long strike, calling on the authorities to investigate the murder of one of their colleagues.
Dragoslav Ognjanovic was gunned down in front of his home in Belgrade on Saturday. His 26-year-old son was wounded.
In the early 2000s, Ognjanovic helped defend the former Serbian president Slobodan Milosevic at his war crimes trial in The Hague. He also represented leading underworld figures.
Several members of Serbian and Montenegrin organised crime networks have been killed in Belgrade in the past two years in a turf war over drugs. At least three lawyers have also been killed.