Greek PM visits wildfire-stricken town of Mati a week after the disaster
Comments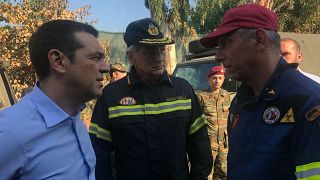 Greece's Prime Minister Alexis Tsipras visited the fire-stricken resort of Mati for the first time on Monday, a week after the inferno claimed at least 91 lives.
It's his first visit to the town, which lies 30 km east of Athens, after facing criticism for the government's response to the blaze.
The premier, who arrived without a prior announcement by his office and without the presence of the press, spoke to residents and emergency service crews that are still searching for the missing.
Tsipras has accepted full political responsibility and pledged a series of changes, including a crackdown on illegal and haphazard construction that is thought to have worsened the blaze.
He spent around an hour in the area and met locals and police officers and was briefed on the current situation by the deputy chief of the fire brigade, as well as infrastructure ministry civil engineers that are currently on the scene.
In a tweet about his visit, Tsipras expressed his "unspeakable sorrow" after visiting the site of the tragedy.
"I spoke with citizens, civil engineers, soldiers, firemen and volunteers. 
Unspeakable sorrow but also immense respect for those that fought an unequal battle with the flames and are now fighting the battle for restoration," he said.
Tsipras' aides said that over the last week he had been busy coordinating the response from Athens. 
His coalition partner went to Mati on Thursday and was shouted at by survivors.
As rescue crews still hunt for those unaccounted for, residents were trying to salvage what they can from the disaster.
Out of the nearly 2,600 buildings inspected in fire-stricken areas so far, half are intact, 25 percent need to be demolished and the rest can be repaired, the infrastructure ministry saidon Monday.
A Greek citizen filed a lawsuit on Monday against the government, the municipal and regional authorities and anybody else found to be involved in the disaster.