Greece: Search for 25 missing people continues
Comments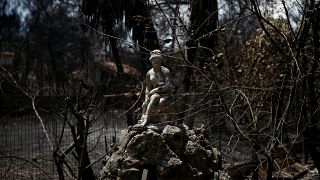 Search and rescue teams continue looking for 25 missing people after the deadly fire in eastern Attica.
It's after 59 bodies were found, 28 are still yet to be identified and four people are still in hospital.
Firemen and volunteers walk for hours, with the hope of finding traces of human presence.
Our reporter Michalis Arampatzoglou in East Attica says, "The men and women of the Special Units investigate every centimeter of buildings and fields in the affected area. Although there is no hope of finding survivors anymore, they continue their massive efforts".
These men and women are trained for every obstacle and every tragic situation. Still, they are limits that test them.
Ioannis Kolovos, a Fire Major says, "I have participated in other similar operations. But what saddens me more, in this particular case, is that the analogy of minors is very large compared to the population that lost their lives".
Our reporter, Michalis Arampatzoglou asks, "You saw many children".
Ioannis Kolovox says, "Yes, many children. Unfortunately."
Georgios Kafkas, Warrant Officer with the fire brigade says, "What makes us a little happy, if we can even use this word in such a situation, is that yes, we had many victims, but we also we had a lot of survivors, people that we rescued".
The outcome of the search efforts is of utmost importance for dozens of families that still wait for some news concerning their loved ones.