California wildfires kill six
Comments
By Jet Cuthbertson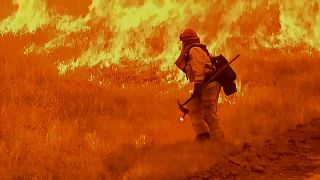 Six people have died in California, including a great- grandmother and her two great-grandchildren, as wildfires ravage the state. Thousands of firefighter are battling the blaze, and 17 helicopters are dropping water in an attempt to dampen the fires.
70 year old Melody Bledsoe, and her great grand-children James and Emily were confirmed dead on Saturday. 7 other people remain missing.
At the Carr Fire in Redding, firefighters are working around the clock to prevent further destruction and loss of life.
CalFire Division Chief Chris Anthony says that the teams are doing their best to tackle the blaze:
"We're trying to get the heavy fuels down away from the line so we'll have less chance of embers crossing the line."
The conditions the firefighters are facing are unprecedented, a mix of "incredibly hot temperatures, steep terrain and heavy wind". For the Fire Chief, conditions are dangerous: "Extreme is not even the right adjective to use any more it is just an understatement because fire is so explosive now in California".
Firefighters have a selection of tools at their disposal when challenging the spread. They light backfires, which allow controlled burning, before quenching the flames from the air using specialised aircraft.
With hundreds of homes reduced to rubble, firefighters are working in rotation of shifts up to 36 hours long in order to secure the safety of the general public.