Europe briefing: Five stories to know about today
Comments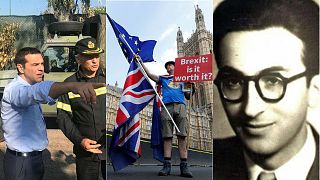 1. Greece's fatal fires:
Prime Minister Alexis Tsipras visited a town struck by deadly wildfires last week. At least 91 people were killed when the blaze hit the tourist town Mati. Tsipras accepted full political responsibility for the disaster and pledged a series of changes, including a crackdown on illegal and haphazard construction that is thought to have worsened the blaze.
His visit followed criticism from opposition parties over his handling of the crisis, after he did not appear publicly with victims after disappearing from public view for three days until Friday evening.
2. Novichok victim's funeral to be held with special health measures
In the UK, a funeral is underway for Dawn Sturgess, who died from exposure to the nerve agent Novichok.
Sturgess, 44, died earlier this month after she and her partner Charlie Rowley, 45, were exposed to Novichok on June 30 in Amesbury, Wiltshire.
Safety measures will be in place to protect mourners. Public Health England said there would be no pallbearers and the coffin would be in situ before mourners arrive.
3. The UK public is turning against Brexit- according to poll
A survey conducted by Sky news has revealed that two-thirds of the public — including a majority of Leave voters — now think the outcome of Brexit negotiations will be bad for Britain.
The poll also showed that 48 percent would prefer to stay in the EU, 27 percent wanted to leave with no deal, and 13 percent would opt for the government's deal.
The shift in public opinion comes as Prime Minister Theresa May stepped up planning for a so called "no-deal" Brexit that would see the world's fifth largest economy crash out of the EU without a trade agreement.
Her popularity has plummeted as the vote showed that since March, the proportion of those satisfied with May's performance has fallen to 24 percent, down 17 percentage points.
4. Italy's Prime Minister Giuseppe Conte to visit like-minded Trump
US President Donald Trump receives Italian Prime Minister Giuseppe Conte today.
Last month the White House said: "Italy is an important NATO Ally, a leading partner in Afghanistan and Iraq, and key in bringing stability to the Mediterranean region".
During the recent G7 summit in Canada, Trump said Conte is "very strong on immigration — like I am, by the way."
The Italian Prime Minister is a soft-spoken law professor who relishes a low profile. However, his government is composed of populists that are closing the door to migrants.
5. French skier lost 64 years ago in the Alps identified with social media
A French skier who went missing more than 60 years ago has finally been identified after details of a probe into his disappearance were posted on social media, Italian police said.
Human remains, ski equipment and glasses had been found in 2005, high in a valley in Italy's Aosta region.
Having made no progress with identification, the Aosta valley prosecutor decided in late June to post the investigation's findings on his Facebook page, asking readers to spread the information.
The story was then picked up by French media and Emma Nassem heard the story and questioned if it could be her uncle Henri Le Masne, who went missing after skiing in a storm near the Matterhorn by the Swiss border in 1954.
Italian police said a DNA test confirmed the identification.
Read the full story here.
As-it-happened updates for Monday, July 30
This is how we covered key developments this morning: