Mugabe says he will vote for the opposition in Monday's poll
Comments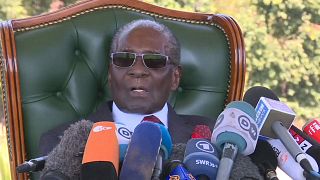 Former Zimbabwean president Robert Mugabe says he will vote for the opposition, turning on one-time allies, in the first general election since he was ousted in November.
The poll sees 75-year-old President Emmerson Mnangagwa face 40-year-old Nelson Chamisa, a lawyer and pastor.
Mugabe told reporters at his mansion in Harare that Mnangagwa's government was unconstitutional.
"I was sacked, from the party I founded, ZANU-PF. I was regarded now as an enemy," he claimed.
Mnangagwa, who is known as 'the crocodile', an animal famed in Zimbabwe for its stealth and ruthlessness, has promised to deliver jobs and is seen as open to economic reforms.
Chamisa, head of the MDC party, could become Zimbabwe's youngest president.
Like his rival, he has promised to transform a country which has been paralysed for two decades.