Migrant children forced into 'survival sex' at Italy-France crossing, says NGO
Comments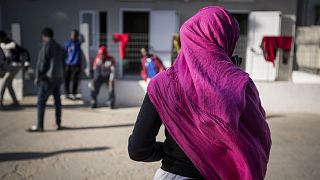 Migrant children seeking to cross into France via northern Italy are being forced to sell sex in exchange for a safe crossing, food or a place to sleep, according to a new report by Save the Children Italy.
The worrying emergence of so-called "survival sex" at the Ventimiglia crossing sees minors, who are mostly from sub-Saharan Africa, forced into "prostituting themselves" if they cannot afford the €50 to €150 requested by drivers for a lift across the border, or for food or shelter.
"These are very young and particularly at risk girls who are part of the invisible flow of the many unaccompanied migrant minors in transit at the northern Italian border who, in an attempt to reunite with their relatives or acquaintances in other European countries, are deprived of the opportunity to travel safe and legal routes," Raffaela Milano, director of the Save the Children Italy-Europe programmes, said in a statement accompanying the Italian-language report.
The girls are "strongly exposed to very serious risks of abuse and exploitation, in many cases finding themselves living in conditions of great degradation", she added.
The NGO says the situation in Ventimiglia was aggregated by the eviction in April of a makeshift camp along the Roja river, which forced more minors into "degrading, promiscuous and dangerous conditions", which it said have been "alleviated only by associations that offer legal assistance, internet connection and other basic necessities."
The group says the situation is also happening in other parts of Italy.
Milano said there needed to be greater efforts to protect migrant children from sexual exploitation, including strengthening anti-trafficking networks and offering more support to those affected.