Watch: sharks are returning to California and it's good news
Comments
By Matt Danzico, Left Field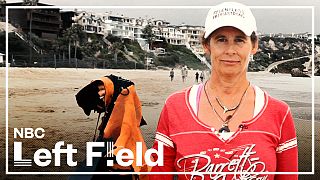 -
Great white sharks are being seen more and more in southern California.
Dozens of sightings are reported each year, often just off the shoreline in spots popular with surfers and swimmers.
Whether the rise is due to changes in food sources, warmer waters or marine conservation efforts, a change is definitely underway.
To a generation conditioned by Jaws and other Hollywood depictions of the planet's most notorious predator, that might seem like a bad thing.
But with only 2 unprovoked attacks last year with 150 million people visiting the beach, NBC Left Field's Matt Danzico explains that it's time to put our fears into perspective.
More from Left Field
Should anti-terrorism barriers look pretty?
Brazilians use apps to avoid gun violence