US misses family reunification deadline
Comments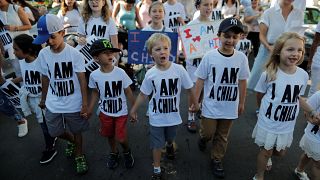 Protesters gathered in Washington on Thursday (July 26), demanding that President Trump reunify thousands of immigrant families separated at the US-Mexico border.
Many of them were young children, holding posters reading "I am a child" and chanting "I am the kid".
Their calls come hours before a court-ordered deadline to return children over the age of five to their families.
That order has now elapsed and one in three children are still separated from their parents.
According to a court filing, the government reunited almost 1,500 families with children aged 5 and older by late Thursday.
But more than 700 children are still in government custody.
The Trump administration says the deadline has been met, however, with the remaining families being ineligible for reunification, many because their parents were no longer in the United States.