Greece fire: DNA testing is the only way to identify people
Comments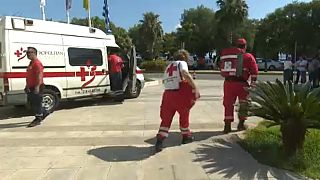 The grim search for missing people after Greece's deadliest wildfires continues on land and at sea.
The only way bodies can be identified is through DNA testing and dental records because they're so badly burnt beyond recognition.
It's distressing for everyone.
Giannis Makris, the Chief Rescuer says, "We got here and it is impossible to describe what we saw, there are no words. They were bringing elderly people, with mobility issues, with respiratory issues, children, people with burns and dead bodies".
The search won't end until every building had been thoroughly investigated, according to a local spokesperson.
Rescuers want to make sure everyone's accounted for.
Giannis Makris, the Chief Rescuer adds, "We searched the entire area at Mati once. Every night we speak with the fire department and gather new information, for a second research in order to make sure that nobody is left behind".
Coroners say the identification process should be completed by Saturday.