Macron bodyguard gives newspaper interview
Comments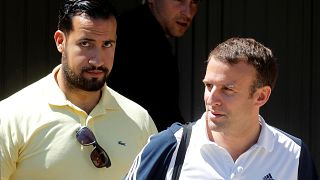 The senior bodyguard to Emmanuel Macron, who was fired for beating May Day protestors, claims the incident has been exploited to tarnish the French President .
In an interview with Le Monde newspaper, Alexandre Benalla says he is a fall guy and his case is being used to settle scores with the president.
It was Le Monde which identified Alexandre Benalla in footage showing him hitting protesters while off duty and wearing ariot helmet and police tags.
"I feel like I made a big mistake," Benalla tells the newspaper. "But this is only a mistake from a political point of view. I should never have gone to that demonstration as an observer, then I maybe should have held back ."
Benalla insists people are trying to get to Macron through him.
"They tried to get to me, to 'kill' me. But this whole affair was an opportunity to get to the president," he explains. "I assume facts, I'm not into conspiracy theories. This is the truth."
Benalla did not give names but blamed politicians and police for exploiting the incident for their ends.
Meanwhile, Macron's chief of staff Alexis Kohler has appeared before a Senate Committee.
He admitted that an initial decision to punish Benalla with a two-week suspension may "appear insufficient" but it seemed "proportionate" at the time. He added the President had always been satisfied with Benalla's conduct.
"I can tell you that at no time had I ever been informed about the least incident or inappropriate behavior of the person in question until May 2nd," he said. "And I would even say the contrary was true. I only had positive feedback about the work, the commitment, the dedication of Mr. Benalla."
Critics say Macron's handling of the case shows he has lost touch with ordinary people since taking office last year.
Macron was unapologetic when pressed to comment on the incident on Wednesday during a visit to southern France.