Europe briefing: Five stories to know about today
Comments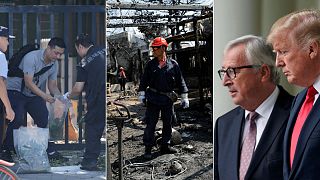 1. Search continues for victims of Greece's deadly wildfire
Search operations are continuing for victims and people who disappeared amid deadly wildfires that swept Greece earlier this week.
At least 81 people died and 40 are thought to be missing, according to Euronews reporter Ayman Oghanna, who added that the death toll could top three figures.
Anti-terror officers are investigating whether arson is to blame.
2. Trump and Juncker ease US-EU trade tensions
European Commission President Jean-Claude Juncker says he has made a deal with President Donald Trump to try to ease trade tensions.
The European Commission leader added the US would hold off on further tariffs while trade negotiations were taking place.
3. Facebook suffers 20% stock plunge and European user-base shrinks
The tech giant said it expects revenue growth to slow as it "puts privacy first" in a post-scandal, post-GDPR landscape, as shares plunged by 24% on Wednesday.
The introduction of the European privacy law in May saw active users in Europe fall by three million in the quarter, a drop of about 1%.
Worldwide daily user growth for Facebook also slid for its sixth straight quarter, bringing it to nearly 1.5 billion users in the second quarter.
4. Euronews presenter slams airline's 'lack of humanity'
Euronews presenter Isabelle Kumar and her family were removed from an Emirates Airline flight on Wednesday because of her son's epilepsy, even though doctors had cleared him to fly.
"It was the lack of humanity that we found really shocking. The staff were faced with a kid with severe disabilities but they threatened to call the police if we didn't get off, even though our bags were still on the plane," Kumar said.
Emirates later apologised and offered the family a complimentary hotel stay and return flight. As of Thursday afternoon, they are en-route back to France and have not experienced further problems.
5. Footage of Tour de France altercation surfaces
Footage of British cyclist Chris Froome confronting a police officer who pulled him off his bike on Wednesday surfaced online.
The four-time Tour de France champion had descended from the finish line at the 17th stage of this year's race when an officer reportedly mistook him for an intruder and caused him to crash.
Despite the incident, Froome didn't appear to be injured and should be fit to finish the race when it concludes in Paris on Sunday.
As-it-happened updates for Thursday, July 19
This is how we covered key developments this morning: