How do lizards survive hurricanes? Scientists use leaf blower to find out
Comments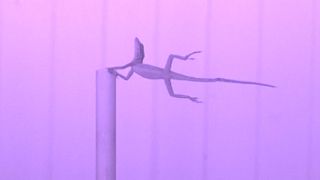 Copyright

Harvard University
Lizards can cling on to objects while faced with wind speeds topping 174kph – and the feat has been captured on a high-speed camera.
Using a leaf blower to simulate hurricane-force winds, researchers from Harvard University observed how 47 Carribean lizards could withstand the power of real-world tropical storms.
They found the critters could grasp a wooden pole using just their two front feet until they were overwhelmed by wind-power. But no animals were harmed in the experiment as a safety net was in place to catch them.
The findings were published in the journal Nature on Wednesday.
The study came about after scientists found lizards with larger toe pads were more likely to survive tropical storms compared to their less well-endowed counterparts.
Watch the study in action in the video player above.