Reserved pool lane angers Berlin swimmers
Comments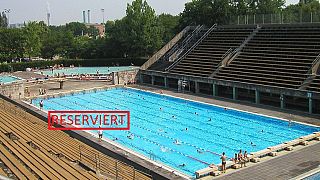 Berlin swimmers were infuriated to find an entire lane of a public Olympic-sized swimming pool had been reserved apparently for the use of one person.
Thomas Walde, a journalist, tweeted his annoyance after noticing just a single swimmer in the "most beautiful" lane.
He was seemingly under the impression the lane had been closed off because a celebrity had demanded to swim alone.
But the pool later confirmed that anyone could ask to reserve a lane in the 50-metre pool if they paid €60-an-hour.
Whether it was granted would depend on how many people were swimming.
The story sparked bemusement among Germans on Twitter who were surprised to learn that anyone could privatise part of a public venue.