Mayor in tears after deputy decides to bestow town award on him
Comments
By Cristian Gherasim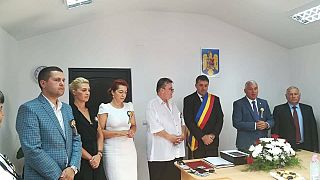 When the commune or Pietrosita decided to recognise its leading citizens, the mayor's office decided to honour... the mayor.
Mayor Ioan Leonard Dicu was in tears as he accepted honourary citizenship from his own deputy at a ceremony in his own town hall..
In front of an audience of civil servants and local counsellors mayor Dicu was one of three people awarded the title. Dicu first delivered the award to the other two before turning recipient himself.
The decision to award the title to the mayor was taken during a late April local council session. The session was also attended by mayor Dicu.
Throughout the award ceremony, Mr. Dicu looking surprised and touched by the gravity of the moment, shed a tear.
"There were tears of joy. It's a once in a lifetime occasion", the mayor told the Romanian public broadcaster.
In certain towns and communes across Romania, the title of honorary citizen comes with certain benefits. For example, the title holder could be exempted from paying certain state taxes or even get a plot of land to build a house on.
Dicu went on to tell Romanian media that "the deputy mayor made the proposal to award me with the title of honorary citizen. It's a plaque, an honorary distinction without any financial benefits attached."