Macron scandal continues with opposition criticising the President
Comments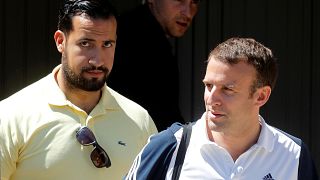 The French President told his party Tuesday night that the security aide scandal was his responsibility and condemns Alexandre Benalla's behaviour as a "betrayal". It's after Benalla was filmed striking demonstrators in police riot gear on the 1st of May.
The incident has prompted furious opposition claims of an attempted cover-up, which the government denies.
Benalla was fired only after video footage of him was published on July the 18th, a week ago - 11 weeks after the event.
Ugo Bernalicis MP, National Assembly party says, "It's not enough to say " I'm responsible but I'm irresponsible". When he says "they should come to get me", he is protected by the Constitution, so here he has complete impunity.
Marine Le Pen MP, Head of Rally Party says, "Emmanuel Macron is President of the Republic and not a gang leader, so we can only understand one thing: that he may wish to be called to the commission of investigation.
Even though the Élysée Palace knew about Benalla's assault the following day, it wasn't made public for two months. But the government's spokesperson Benjamin Griveaux says he believes President Macron. "When he says he is responsible, it is him who chose Alexandre Benalla, and that Alexander Benalla should join the team of the Elysee. I believe the President of the Republic when he says it. He wants to put an end to what has been practiced for too long in our Republic".
He added that the governing system wasn't created to protect the president.
Meanwhile, Benalla was sacked when the crisis escalated and was put under an official investigation on Sunday. Benalla's lawyer claims the security aide believed he was acting as a "good citizen"