Afghanistan: 40 years of instability, is there hope for peace?
Comments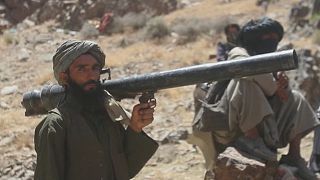 Afghanistan has been engulfed in war and instability for forty years. Even in the capital, citizens fear being caught in suicide bombings, not knowing if at the end of the day they will return home alive! 
Most officials and people believe regional and international powers are responsible for the endless suicide attacks and instability in the country. Is there hope for the establishment of peace? Would an Afghan army - in the absence of the foreign troops - be able to secure the country?"
Daily life in Kabul streets looks like in any other capital. But it is not. A sudden suicide attack could happen at any moment. In 2017 alone more than 10,000 civilians were killed or wounded in Afghanistan, hundreds of them in Kabul.
Life and death seem so interwoven in Kabul.
On 22 April a suicide attack at voter registration centre in the Dasht- e- Barchi region of Kabul killed 63 and wounded more than a hundred others. A month later, Euronews returned to film the impact.