Annual World Santa Claus Congress kicks off in Denmark
Comments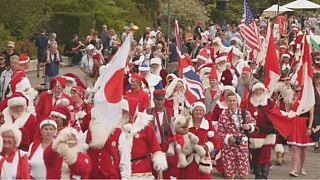 Hundreds of Santas, pixies, and elves gathered in amusement park Bakken near Copenhagen on Monday to celebrate the 61st annual World Santa Claus Congress.
The four-day event was founded by Danish entertainer Christian Jørgen, also known as "Professor Tribini" Nielsen, who appeared as a Danish Santa in Copenhagen for many years. The idea was to have Santas from around the world come for a "Christmas in July," the website reads.
Included in the event are boat rides, parades, guided tours of Bakken, a "Santa pentathlon," and more.