Italy: Holidaymakers and locals help rescue 56 migrants who arrive by boat
Comments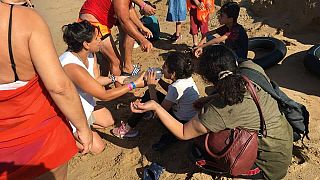 Holidaymakers and locals at Cape Rizzuto in the Italian region of Calabria assisted 56 migrants that arrived on the beach by sailboat, reported Italy's news agency ANSA. 
Those who came to the rescue saw the migrants struggling to get off the boat. The Italian Coast Guard, the Italian Red Cross, and state police were alerted and came to help shortly after.
On board, there were Syrian and Iraqi men, women, and children, according to ANSA.
Bruno Palermo, director of Italy's Crotone News, told Euronews that the migrants are now in the CARA migrant centre of Cape Rizzuto. 
"They haven't been able to tell us where they come from, yet, they arrived quite exhausted," adding that authorities are verifying the identities of the two people driving the sailboat. 
Nearly two decades ago, a similar situation occurred on the same beach: locals helped in the rescue of 50 Kurdish migrants.