Boys in Kenya use slingshots to plant tree seeds
Comments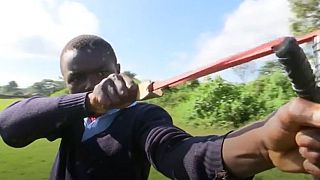 Schoolboys in Kenya are using slingshots for good: instead of rocks, they're shooting charcoal-covered seeds to plant trees.
Termed "guerilla gardening," this method has been used to plant over 2 million seedballs in the past year and a half.
Seedballs Kenya manufactures and distributes these seeds.
"I personally do really like it because a lot of times sling shots are being used for actually killing birds. This time we are using them to plant bird habitat to grow more trees…" Teddy Kinyanjui, Sustainability Director at SeedBalls Kenya, told AP.
Boys also get awarded based on their target abilities in slingshot competitions.