Marchionne replaced as head of carmaker Fiat Chrysler
Comments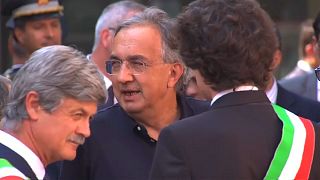 Sergio Marchionne is to step down as head of global carmaker Fiat Chrysler to be replaced by the chief of the company's jeep division Mike Manley.
Louis Camilleri takes over from Marchionne as chief executive of luxury sports brand Ferrari.
The move comes after 66-year-old Marchione suffered serious complications from an operation on his shoulder earlier this month.
Fiat Chrysler say British-born Manley will continue with the strategy outlined by Marchionne last month which will assure the company's "strong and independent future".
Marchionne is credited with rescuing Fiat and Chrysler from bankruptcy since taking the wheel at the Italian carmaker in 2004.
He had been due to step down from the combined group next April.