Spain withdraws international arrest warrants against Puigdemont and other Catalan politicians
Comments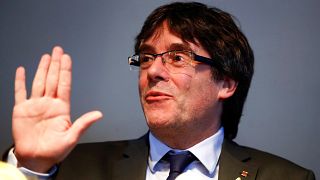 Copyright

REUTERS/Hannibal Hanschke/File Photo
Spain's Supreme Court has dropped the European Arrest Warrant for Carles Puigdemont, as well as five other Catalan politicians linked to the planning of the Catalan independence referendum after the subsequent declaration of independence last October.
It also decided to drop the extradition of the former Catalan regional leader from Germany, where he was charged with misuse of public funds linked to the referendum.
The move comes after a German court ruled that Puigdemont could not be sent back to Spain on rebellion charges — but could be charged for misuse of public funds.
The Spanish charges of rebellion are not recognised in Germany and the German statute against treason does not apply because Puigdemont's actions "did not raise any kind of violence".
Judge Pablo Llarena wants Puigdemont and the other separatist politicians who fled the country to face charges of rebellion and sedition in addition to misuse of public funds.
The lawyer of former Catalan minister Clara Ponsati, who has been fighting against being extradited from Scotland, remains wary of the decision.
Aamer Anwar told Reuters: "The question that arises is whether the Spanish government are willing to allow Mr Puigdemont to simply return back to Catalonia and declare independence... I suspect not".