Europe briefing: Nine stories to know about today
Comments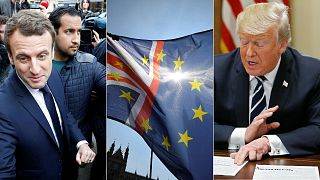 1. Trump invites Putin to the US
US President Donald Trump has invited Russian leader Vladimir Putin to visit the US this autumn.
In a tweet on Thursday night, Trump's press secretary Sarah Sanders said discussions about the visit were "already underway", while Russia's ambassador to the US on Friday said Moscow was ready to discuss the meeting.
The invite comes after talks between the two leaders sparked controversy this week when Trump said he saw "no reason to believe" that Moscow hacked the 2016 US presidential election. The following day he backtracked on the comments, saying he had "misspoken".
2. Macron to fire aide caught on camera striking May Day protester
French President Emmanuel Macron has decided to fire the bodyguard who was caught on camera beating a May Day protester after "new facts" emerged about the alleged misdemeanour, the president's office said.
"New facts that could constitute misdemeanour by Alexandre Benalla were brought to the president's attention," an official at the Elysee palace told Reuters.
"As a result... the presidency has decided to start Alexandre Benalla's dismissal procedure," the official added.
Benalla was being questioned by police, a judicial source said separately.
3. EU countries send aircraft to Sweden to fight wildfires
EU countries are sending aircraft to Sweden to help it deal with its worst wildfire season in modern times.
Swedish authorities asked the EU for help to fight the blazes, which started due to an extreme heatwave across the Nordic region.
France, Italy, Germany and Lithuania are among countries to send or pledge aircraft to Sweden.
4. Theresa May in Northern Ireland
British Prime Minister Theresa May is on a two-day visit to Northern Ireland where she is set to promote her Brexit plan as the best way to avoid a hard border with Ireland.
Northern Ireland presents a particular problem in the Brexit negotiations as there is a commitment to avoid a hard border with the Irish Republic, even though this would become the frontier between the EU and a post-Brexit UK.
The trip marks the start of an expected UK tour to sell her Brexit Chequers plan.
For more on her trip from Euronews correspondent Vincent McAviney, watch the video below:
5. UK 'to warn public every week over no-deal Brexit': report
Britons will from next week start receiving weekly information bulletins from the government about how to make sure they're ready for a disorderly Brexit, The Times newspaper reported on Friday.
The information will be distributed as "bundles" to consumers and companies as Britain counts down to its departure from the European Union on March 29, 2019, said the newspaper.
Under the government's new campaign, the newspaper said small businesses will be given information about how to make customs declarations while British holidaymakers will be told to buy health insurance in case current reciprocal deals end.
6. Liverpool transfer makes Alisson world's most expensive keeper
Liverpool have confirmed a £65 million (€72 million) deal to sign Brazilian goalkeeper Alisson Becker from Roma.
The six-year deal makes Alisson the most expensive keeper in the world, eclipsing the record £35 million Manchester City paid for Ederson last year.
7. Russian security service searches space agency over suspected treason: report
Russia's Federal Security Service has searched a research facility controlled by the country's space agency Roskosmos over the suspected leaking of secrets about new hypersonic weapons to Western spies, the TASS news agency reported today.
TASS cited the space agency as saying it was cooperating with FSB officers, who were investigating a case of suspected treason.
8. Rothschild Bank AG broke anti-money laundering rules in 1MDB case
Rothschild Bank AG and one of its subsidiaries have been found to be in serious breach of money laundering rules in relation to 1MDB, the Malaysian sovereign wealth fund, Switzerland's financial regulator said today.
The regulator, FINMA, said in a statement that the bank was in breach of due diligence, reporting and documentation requirements.
It said it will review the steps the institution has taken to tighten up its procedures.
The investigation is the seventh and last undertaken by FINMA into 1MDB. Malaysia's former Prime Minister Najib Razak, has been charged with abuse of power and breach of trust in a graft probe into the fund, which he set up. He has pleaded not guilty and denied wrongdoing.
Rothschild Bank AG said it noted the regulator's comments and regretted the breaches that occurred, Reuters reported.
9. Merkel says trans-Atlantic relationship 'central' to government
German Chancellor Angela Merkel says the trans-Atlantic relationship remains "central" to her government despite tensions with US President Donald Trump.
Asked about her working relationship with Trump, Merkel told a news conference: "One can say that the values, or our usual framework, are under strong pressure at the moment."
"However, the transatlantic working relationship, including with the US president, is crucial for us and I will carry on cultivating it," she added.
As-it-happened updates for Friday, July 20
This is how we covered key developments this morning: