Woman the sole survivor after migrant trio 'abandoned' in Mediterranean
Comments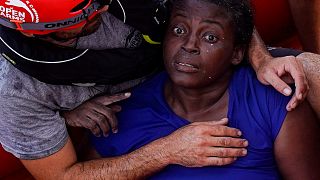 This is the sole survivor after three migrants were abandoned in the sea off Libya, a Spanish charity has claimed.
Josefa, from Cameroon, was part of a trio left behind by Libya's coastguard after refusing to board their boat, according to Proactiva Open Arms.
Libya's coastguard disputes this account and says it rescued 165 migrants and the body of a baby.
But it offered no detail on how the trio came to be left in the sea.
It comes as Proactiva Open Arms released harrowing footage of the moment its rescuers found Josefa with two other dead migrants, a woman and a boy.
The charity said the deaths were a direct consequence of Italy handing responsibility to Libya for rescuing migrants in its waters.
"Every death is a direct consequence of that policy," said Proactiva Open Arms in a tweet.
Spanish basketball player Marc Gasol, who has been involved with Proactiva Open Arms for a year, was on the charity's rescue boat.
"Frustration, anger, and helplessness," he wrote on Twitter. "It's unbelievable how so many vulnerable people are abandoned to their deaths at sea."
Italy's tougher line on migrants — imposed by its new populist government — has seen rescue boats turned away from the country's ports.
It includes Aquarius, which was carrying more than 600 migrants when it was refused entry to Italy and Malta last month.
The boat eventually docked in Valencia, Spain.
SOS Méditerranée, the NGO responsible for Aquarius, said it was now re-evaluating its operations in light of Italy's change of heart.
"No safe port is accessible for survivors to land at within reasonable distance and the rescue zone in international waters has passed under Libyan control. Aquarius is therefore forced to re-evaluate its operation in model in the Mediterranean," the NGO said in a tweet.