Leaders say EU-Japan pact protects workers
Comments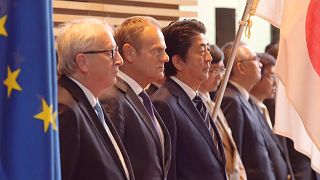 The new EU-Japan pact is being touted as the world's biggest trade agreement: 600 million consumers between Europe and Japan, and slashing tarrifs by 90 percent. Jean-Claude Juncker, the European Commission President, said at the signing in Tokyo that he expects trade to increase by about a quarter between the two sides.
Shinzo Abe, the Japanese Prime Minister, said he was thankful for the agreement because it provides more predictability for Japanese car makers, for instance, in the UK wanting to continue sending their cars over to the European Union.
Analyst Chris Burns was in Tokyo for Euronews and asked Abe, Juncker and Donald Tusk, the European Council President, 'What about ratification?'.
"It could be a tough road ahead, trying to win over the hearts and minds of people worried that their jobs or their businesses could be threatened by the lowering of these trade barriers," Burns says. 
In response,Tusk said that, without an agreement like this, it could be even worse and there could be competitive tariff increases.
Shinzo Abe said the agreement builds in protection and promotion of small and medium enterprises.
Jean-Claude Juncker made the argument that this agreement also builds in protection, not only for workers but also for the environment, health and the consumer.