Aquarius to dock in Malta
Comments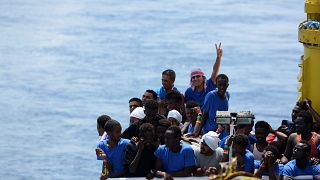 Copyright

REUTERS/Guglielmo Mangiapane

-
The migrant rescue ship Aquarius will be docking in Malta after days in limbo with 141 migrants. Those onboard were rescued off the coast of Libya on Friday, and have since been turned away from Italian ports as European countries argued about who would take in the migrants. The deal was reached between Malta, Germany, Spain, Portugal, France and Luxembourg, and allows the ship to dock in Malta before sending the migrants on to the other five countries.
Aquarius is operated by French-German charity SOS Méditerranée and Doctors Without Borders. In June, it was stuck at sea for seven days with 630 rescued migrants on board while another deal was worked out and finally docked in Valencia, Spain. Frédéric Penard, Director of Operations for SOS Méditerranée, said that a more permanent solution is urgently needed.
"Ships are being stranded in the sea sometimes for days, sometimes weeks," he said. "Just waiting for the discussions to result in a solution."
Some EU leaders met at the end of June to work out a deal on migration, that saw a rough plan emerge to send migrants to "control centers" to be created only in those countries that volunteer to host them- but the deal hasn't made a practical difference for rescue ships working in the Mediterranean sea yet.
When Aquarius does dock, there will be fast registration as the authorities record each person's name, age, country of origin. Those in need of medical attention will be taken to hospital, others will stay in reception centers while they wait for more thorough interviews- then they'll be sent on, out of Malta. 60 migrants will be sent to Spain, 60 to France and 30 to Portugal - the rest will go to Luxembourg and Germany. Many of those on board the Aquarius are under 18, and will need special care when the ship docks.