Watch: Police helicopter chases drug smuggler onto Spanish beach
Comments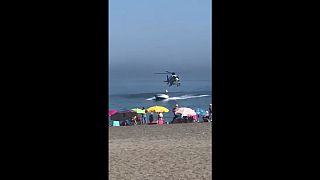 Dramatic footage has captured the moment a police helicopter chased a suspected drug smuggler onto a Spanish beach.
A sunbather filmed a speedboat coming towards the shore near Manilva, midway between Marbella and Gibraltar.
The shaky footage shows the boat land on the beach, surrounded by sun loungers and parasols.
A man then jumps out and flees along the sand, waving what looks like a gun at shocked onlookers.
He was intercepted by a swimmer: an off-duty police officer who happened to be at the beach with his family, according to Andalusian daily Diario Sur.
The regional newspaper said the suspected smuggler was from La Línea de La Concepción, a coastal town that has become a hotbed of drug trafficking.
The area's proximity to Morocco means it's been badly affected by the trafficking of cocaine and hashish across the Strait of Gibraltar.