Watch: Extraordinary helicopter rescue in the French Alps
Comments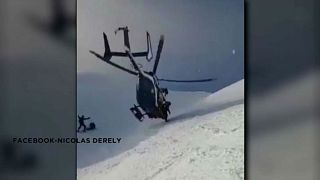 A pilot showed incredible helicopter skills during a rescue mission in the French Alps on January 2.
The video on the player above shows the French mountain police helping an injured skier back up before hoisting him into the helicopter.
What becomes noticeable is the extraordinary precision with which the pilot was able to get close to the injured skier as the helicopter's blades spun closely to the ground.
More videos like this:
Watch: French police recapture 'jailbreak king' after months on the run
Watch: Helicopter crashes during routine maintenance check
Nicolas Derely, who took the footage, explained in a Facebook post that he was out skiing in the Pass of Anterne in Passy, France, with his family and his son's friend, Bruno Tissier, when Tissier slipped and hurt himself while going up the mountain.
Derely said he then called for help and captured a video of the rescue.
Do you like what Euronews does? Click to sign up for our twice-daily WhatsApp newsletter, a selection of the top stories from around Europe, and download our smartphone app for Android or Apple.