Ex-Catalan leader Puigdemont 'can be extradited to Spain'
Comments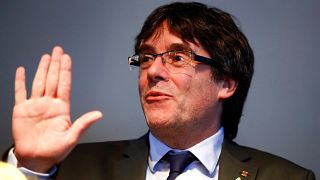 Ex-Catalan leader Carles Puigdemont can be extradited from Germany to Spain for misuse of public funds, a court has ruled.
He fled to Brussels after a warrant for his arrest was issued in Spain for his role in Catalonia declaring independence from Madrid.
The 55-year-old former president of Catalonia later moved onto Germany, where he was detained by authorities in March.
On Thursday (July 12) a court in Germany ruled he could be extradited to Spain on grounds of misuse of public funds.
Prosecutors say they will soon make a final decision on whether to go ahead with Puigdemont's extradition.
A source close to Puigdemont said he would appeal today's ruling.
It comes after Spain's new prime minister, Pedro Sanchez, signalled a thaw in relations with Catalonia.
Sanchez spoke with new Catalan leader Quim Torra on Monday but ruled out any moves towards independence for the region.