Bulgaria, an emerging tourist destination
Comments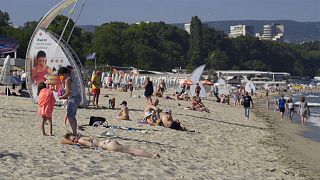 Old streets, young spirit
Plovdiv, in Bulgaria, is one of the two European Capitals of Culture for 2019. (Matera, Italy, is the second).
How did Plovdiv win this distinction? Simply put, it is because Bulgaria is one of the fastest- rising tourist destinations in Europe.
It is Bulgaria's second-largest city and one of the oldest continually inhabited cities in Europe, established around the 6th century BC.
Today it is a modern, vibrant city. It serves as the administrative, academic, economic, commercial and transportation centre of the south-central region of Bulgaria.
"The city of Plovdiv has two main goals," says Deputy Mayor Stefan Stoyanov. "To be much more popular and attractive, especially to the European audience and to make the city more visible. On the other hand, we want to double the number of tourists. We expect to have around two million visitors in 2019.
"We have great events. Music festivals, an opera festival. Plovdiv is one of the hot spots that someone can visit. It's not too crowdy but, on the other hand, the city has half a million people. It's a very dynamic city."
The old town is a must-see in Plovdiv. You can walk around and admire the wonderful houses which date back to the Renaissance period.
Today, one of these houses hosts the Ethnographical Museum of the city.
The old town of Plovdiv has been on the UNESCO World Heritage tentative list since 2004.
Tour guide Rumyana Titeryakova says: "Plovdiv is a unique city. It has a long history, an amazing culture and a very beautiful old town. It also has many nice restaurants and very good sports facilities. It's an old city with a young spirit."
The old town hosts many artists and craftsmen and women. The aim is to familiarise tourists with ceramic jewelry and traditional clothes.
"I use traditional methods and techniques, but I try to do it in a modern way. I make scarves, aprons, and handkerchiefs using traditional shapes and forms, suitable for the people (women) of our times," says craftswoman Elena Dramova.
Sea, sun, sand...and much more
Our next destination is Varna, known as the maritime capital of Bulgaria.
Over the years, the tourism sector has become increasingly significant for the Bulgarian Economy.
In 2017, Bulgaria saw:
- a 7.6% rise in inbound tourism;
- with some 8.9 million foreign tourists;
- leading to a 9.3% increase in income from tourism.
The town was established as a trading colony in 570 BC under the name of Odessos. Today, it is a seaside resort and the third largest city in Bulgaria with approximately 330,000 inhabitants.
The city is famous for its magnificent beach and it's deep blue waters.
It is situated on the northern shore of the Black Sea. Even though most see Varna as a summer destination, the municipality is trying to make the city a destination for all seasons.
The contribution of tourism to the growth of the Bulgarian economy is significant.
According to Tihomir Patarinski, at Varna's tourist information centre: "Tourism accounts for approximately 18%-20% of our GDP. But when we talk about Varna, the contribution is a little bit more. Because in Bulgaria, 70% of the available rooms, (hotel and rooms for rent), are located on the Black Sea Coast.
"Varna has plenty of mineral springs, very rich culture, very nice cuisine. However, the most important thing is the hospitality of the people".
The city welcomes around two million visitors a year. Apart from Bulgarians, the city is a top choice for Romanians, Russians and Germans.
Varna has 340 hotels, plenty of restaurants, coffee-bars and shops.
We joined a free walking tour organized by the tourist information center. We walked around Varna, visited the city center and learned the history of the town.
Marina Georgieva, a tourist guide, says: "Varna should be visited because of its rich cultural heritage. We would like to attract more people to the town and encourage them not only to stay in the resorts and enjoy the seaside, but also spend some time to learn more, to see more, to experience more of the atmosphere of the city."
Everyone seems to believe that Varna is a destination which satisfies all tastes.
"I think that everyone should visit Varna because it's a very nice town. It has many things to see, great history and lovely museums. Of course, you can relax on the beach. So, there are activities for everyone," said tourist Helga Lorenz.
"Plovdiv and Varna are twin jewels in Bulgaria's crown. Hopefully, you have now seen why your next trip should be here. We have also seen how tourism contributes to the country's economic growth," reports Euronews' Apostolos Staikos.