Spanish soldier convicted of sexual assault in 'Wolf Pack' case back on active duty
Comments
By Marta Rodriguez & Alice Tidey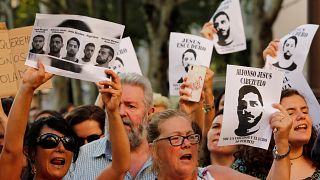 Copyright

REUTERS/Marcelo del Pozo

-
A Spanish soldier found guilty of sexually abusing an 18-year-old woman — along with four men known as the "Wolf Pack" — is back on active duty, Spain's military authorities announced.
Alfonso Jesus Cabezuelo was part of a group of five men who were convicted of sexually assaulting an 18-year-old woman at the Pamplona bull-running San Fermin festival in 2016. However the men, who referred to themselves as "La Manada" ("Wolf Pack"), were cleared of rape.
They were sentenced to nine years in jail but were released on bail in late June pending appeals and returned to their homes in Seville. Cabezuelo had been suspended from active duties for six months.
The Spanish Ministry of Defense announced on Tuesday through its Official Bulletin that Cabezuelo was back on active duty. The move, the Ministry said in a statement, "automatically occurs as stated by law."
"The lifting of the suspension of functions could not be avoided by the Ministry of Defense.
"However, in application of the article 111.3 of Military Law, a posting will not be assigned," the Ministry added. The statement explained that the Ministry can refuse to reassign the soldier until a final ruling has been issued.
Spain to tighten sexual assault law
The case gripped the country with thousands taking to the streets throughout the trial and in April following the court ruling.
According to court documents, the men — Jose Angel Prenda, Antonio Manuel Guerrero, Angel Boza, Jesus Escudero and Alfonso Jesus Cabezuelo — surrounded the woman in a small alcove, removed her clothes and had unprotected sex
They recorded the act on their phones and shared the video on a Whatsapp group chat.
The victim maintained a "passive or neutral" attitude and kept her eyes closed throughout according to the police report. Her phone was then stolen.
Under Spanish law, sexual abuse is a lesser offense than rape which involves violence or intimidation. The judges' verdicts were based on video in which the victim was not seen objecting.
However, the outcry has led the government to announce it plans to tighten the law on sexual assault to mirror a recent Swedish law that makes it clear that any sexual act without explicit consent should be treated as rape.