Spain's 'Wolf Pack' to remain free pending sexual abuse appeal
Comments
By Marta Rodriguez & Alice Tidey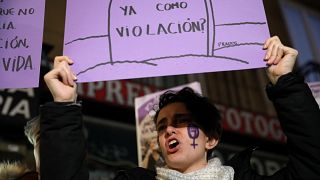 -
A Spanish court ruled on Thursday that the five men known as the "Wolf Pack" and convicted of sexually abusing a young woman during a 2016 festival can remain free while their appeal to the Supreme Court is pending.
One of the three Navarran judges, José Francisco Cobo, voted against them remaining free but he was overruled by two of his colleagues who argued that the five men do not present a flight risk.
The ruling is the latest in a case that has gripped the country, with every new development triggering widespread protest or criticism.
Thousands took to the streets in April following the initial verdict, which cleared the five men of rape, convicting them instead for the lesser crime of sexual abuse.
According to court documents, the men — Jose Angel Prenda, Antonio Manuel Guerrero, Angel Boza, Jesus Escudero and Alfonso Jesus Cabezuelo — surrounded an 18-year-old woman in a small alcove during the 2016 bull-running San Fermin festival in Pamplona.
They then removed her clothes, had unprotected sex and stole her phone. They recorded the whole act on their phones and shared the video on a Whatsapp group called "La Manada" (Wolf Pack).
Judges ruled that as the victim had remained "passive or neutral" throughout, not enough violence had been applied to qualify for rape and sentenced the men to nine years in jail for sexual assault.
They appealed and were released from prison in June, triggering further protests, but a court confirmed the sentence in December.
The government was also criticised in July after it announced that Cabezuelo, a soldier, had returned to active duty. He was eventually dismissed in October with authorities stating that the conviction was cause for termination.
Judges were also condemned for allowing the men out of prison when it emerged over the summer that Guerrero, a member of the civil guard, had tried to renew his passport upon being released.
No court date has been set for the Supreme Court hearing.